ABOUT US
      Singapore Safety Glass Pte Ltd       
Your Trusted Glazing Solutions Partner
Singapore Safety Glass
Singapore Safety Glass (SSG) is a glass fabricating company incorporated in 1989 with the mission to provide the best glass solutions to local and international markets by fabricating high-quality architectural glass products. We have sought to apply cutting-edge technology coupled with solid research and development (R&D) efforts, to create unique 'smart glass' products. SSG is also the first architectural glass manufacturer in the region to obtain an ISO 9001 certification and to be conferred AS/NZS (Australian Standard / New Zealand Standard) 2208 for safety glass. To-date, we have a portfolio of more than 30 product types, and have more than 1,300 projects in over 20 countries. In light of increasing demand, SSG has established our subsidiary in Malaysia (SSG Safety Glass Sdn Bhd) to support our core line of fabricated products.
Today, we are widely recognised as a leading glazing solutions partner for our people, product and promise.

Keeping ourselves on the innovation front is our calling to stay relevant to market needs and as a preferred one-stop glazing solutions partner to customers. We will continue to improve our operational and production technologies to meet the needs of increasingly bold and creative architectural and interior designs. With the increasing focus on green buildings, we also have a range of products under the 'Eco' category that will be able to greatly contribute to Green Mark certification and achieve good ETTV.
Vision Statement
To be the world leader in glass solutions.
Mission Statement
We offer the best glass solutions and highest quality architectural glass products. We exceed our customers' expectations with creative new products through continuous innovation.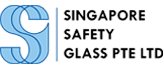 The curves in SSG's logo (pending trademark) highlight a key value that has remained a focal point since our inception in 1989: Our flexibility and ability to produce a wide range of glass that is highly customised to almost any requirement. The curves also reflect our mission to innovate and push the boundaries of the definition of 'glass', which is the reason why we have many smart glass products in our portfolio. All our fabricated glass products have been locally made in Singapore, since 1989. The darker blue lines framing the logo also forms the individual letters 'S', 'S', and 'G'. When combined together, this makes up our acronym 'SSG'. 'SSG' in itself is a seal that represents our very own stamp of quality and assurance, in line with our tagline to be your trusted glazing solutions partner. If you were to see this logo on any piece of glass panels outside, you can be rest assured that it has gone through the most stringent of quality checks and is of top-notch quality.