SSG PrivaGlas panels are a revolutionary breakthrough in display technology, which can transform glass from a cloudy white translucent barrier to an optically clear state with the flick of a switch. This smart glass features two panes of glass laminated with Polymer Dispersed Liquid Crystal (PDLC). SSG PrivaGlas has the ability to change between opaque and transparent states instantaneously, providing privacy. This privacy glass also offers dynamic partitioning of interior building spaces, exterior façades, and can even double up as a projection screen used in convention centres and exhibition halls.
From custom residential to the most high-tech commercial applications, SSG PrivaGlas allows architects and contractors to provide cost-effective creative design concepts with engineering flexibility.
The Technology
PDLC is a medium whose light scattering power is adjustable through applying an electric field. In their natural (uncharged) state, the PDLC droplets align randomly. Light cannot pass through and thus scatters, resulting in a translucent state. When an electric field is applied across the material, the PDLC droplets reorient so that they form a straight line and incident light can pass through, resulting in a transparent state.
Note: We recommend framing each panel with 15mm coverage along the two long sides and minimum 10mm coverage along the two shorter sides from the edge of the glass.
To prolong life of the switchable cells, it is also recommended to switch SSG PrivaGlas to the 'off' state for 4 hours in a 24 hour period.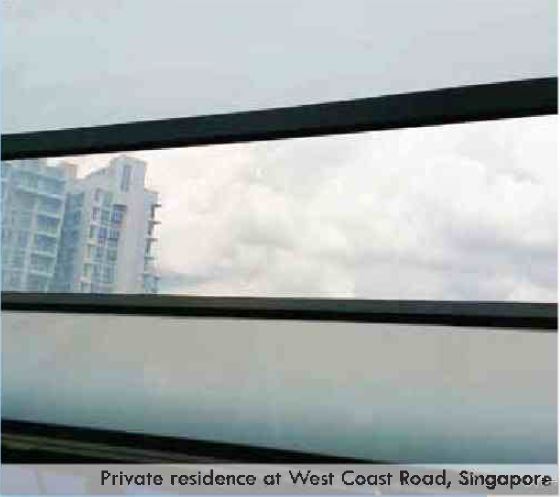 Performance Information
Performance information of PrivaGlas
| Testing Parameters | | ON | OFF |
| --- | --- | --- | --- |
| Optical | VLT (parallel light) | approx. 75% | <1% |
| | Haze | <7% | >90% |
| | Viewing Angle | approx. 150˚ | NA |
| | UV Blocking | >99% | >99% |
| | Infrared Blocking | >30% | >90% |
| | SHGC | 0.78 | 0.06 |
| Environmental | Operating Temperature | -10˚C to 60˚C | |
| | Storage Temperature | -20˚C to 70˚C | |
| Electrical | Power Supply | 65 VAC and CE, UL certificate | NA |
| | Power Consumption | approx. 5 W/m2 | |
| | Response Time | ON -> OFF = 100 ms | |
| | | OFF -> ON = 10 ms | |
Acoustic Barrier
SSG PrivaGlas is an effective sound control product. Sound attenuation is excellent and significantly surpasses that of monolithic glass.
Flexible Application
Both front and rear sides can be used as a high-resolution projection screen. Depending on the installation location, the projection is reflected both in the front or rear of the screen. Specifically, the best effect will be obtained in the rear mode.
High VLT
This smart glass offers superior light transmittance for high visibility with very low haze in an off-axis viewing angle.
Privacy
A simple switch from transparent to opaque states for privacy and security allows the user an instant change and control over light, glare and solar heat gain.
Ultraviolet Screening
SSG PrivaGlas provides generous daylighting all while offering protection from UV radiation.
Bank teller windows and automated teller security windows
Bullet-proof security glass
Command centres
Electro-optical devices
Hospitals
Jewellery counters and showcases
Outdoor advertising
Partition and wall panels
Presentation walls
Privacy windows for conference rooms, executive offices, tradeshows and exhibitions
Skylight and sunroofs
Special effects for the entertainment industry
Ultra-modern residential and commercial blind applications
Window glass
Bathroom partitions
Productions Sizes
| | |
| --- | --- |
| Minimum Size (W/mm x H/mm) | 300 x 300 |
| Maximum Size (W/mm x H/mm) | 1,820 x 3,500 |
Colours
Clear, bronze, blue, grey, green tinted.
View Other Specialty Products