High-performance glazing materials and coated glass such as reflective glass and low emissivity glass give rise to thermal stresses. DuraGlas-HS therefore provides resistance to thermal stresses, reducing the risk of thermal breakage.
DuraGlas-HS breaks into larger pieces and does not crumble into smaller fragments like its tempered counterparts. It allows the glass to remain in the frame as the weight of the broken glass is supported by neighbouring pieces on all four sides. In addition, spontaneous breakage due to nickel sulphide formation is almost non-existent in DuraGlas-HS. These features make DuraGlas-HS a good option for building façades and windows.
The Technology
Glass in a heat-strengthening process undergoes a lower cooling pressure than that used in the tempering process, resulting in DuraGlas-HS with intermediate strength between float and tempered glass. The lower processing temperature causes DuraGlas-HS to have a flatter surface, hence less optical distortion and higher adherence to interlayers when used in laminated products. Note: In fully tempered and heat strengthened glass, a strain pattern may be visible under certain light conditions. Such patterns are characteristic of thermally-processed glass and should not be mistaken as a defect.
Applicability
Monolithic heat-strengthened glass can be used in laminated or insulated glass to provide further mechanical strength and safety. DuraGlas-HS is also available with ceramic fritting (DuraScreen) and Low Emissivity coatings.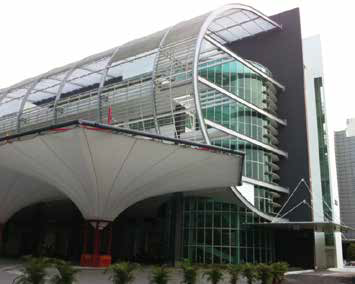 Low Risk of Spontaneous Breakage
Risk of thermal breakage due to nickel sulphide formation is almost non-existent in DuraGlas-HS.
Mechanical Strength
DuraGlas-HS is approximately two times mechanically stronger than annealed glass of the same type and thickness.
Optical Clarity
A lower processing temperature allows DuraGlas-HS to have less optical distortion as compared to a fully tempered glass.
Temperature Resilience
DuraGlas-HS can withstand temperatures up to 295˚C. It also provides resistance to thermal stress associated with highperformance glazing materials such as tinted glass, reflective glass and low emissivity glass in insulated units and spandrels.
Productions Sizes
| Glass Thickness (mm) | Maximum Size (W/mm x H/mm) |
| --- | --- |
| 3 to 4 | 2,438 x 4,000 |
| 5 | 2,438 x 5,100 |
| 6 to 12 | 2,500 x 5,700 |
| Maximum Size (W/mm x H/mm) | 300 x 300 |